Endeavour Energy is committed to public safety and is dedicated to educating students about how to be safe around electricity.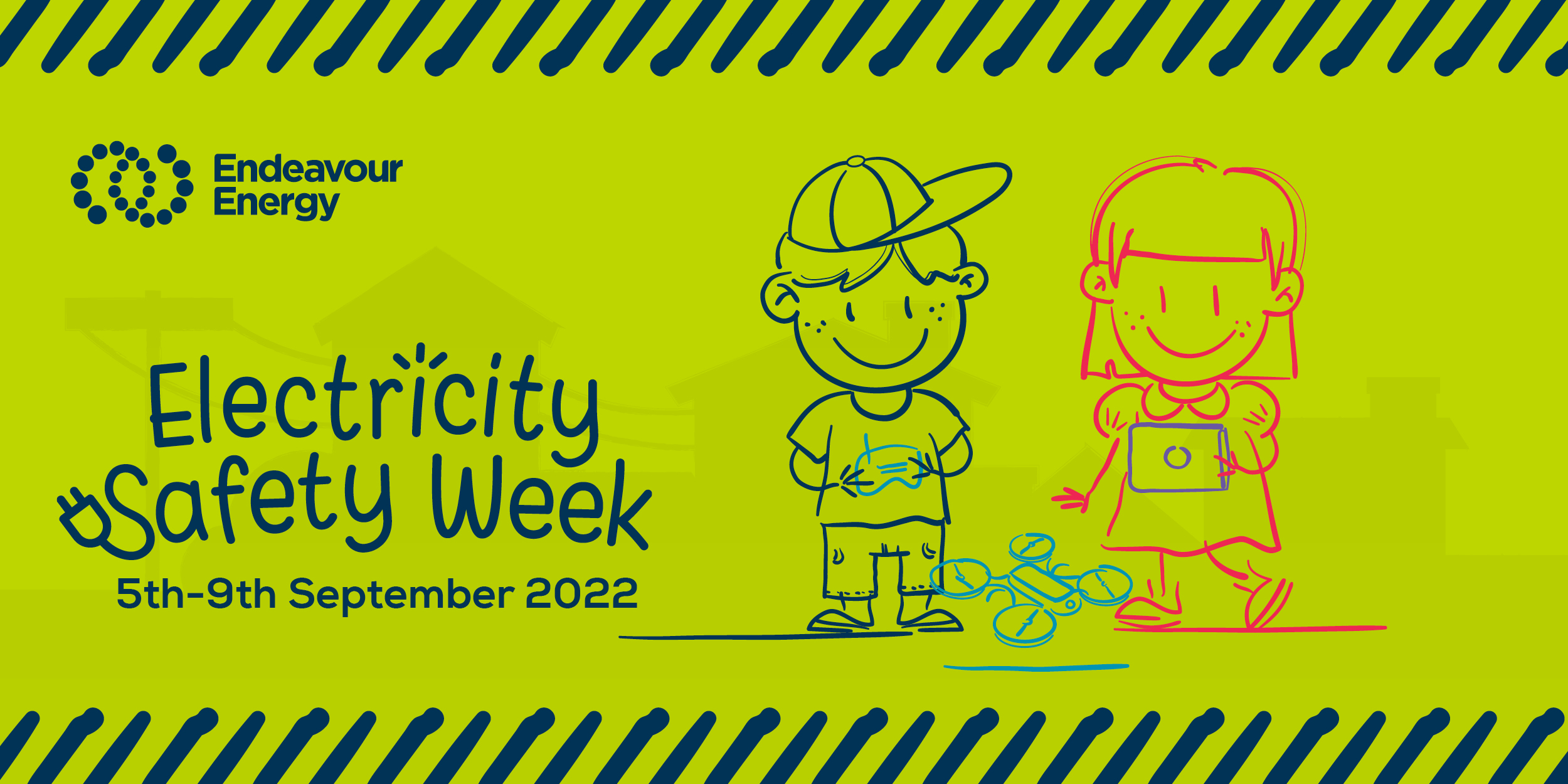 Electricity Safety Week is designed to raise awareness of the hazards associated with electricity and help teachers meet the Science & Technology as well as PDHPE syllabus outcomes for years K-6.
This year, Electricity Safety Week will be held in primary schools from 5-9 September 2022.
Registrations are now OPEN for a free resource and prize pack to participate in Electricity Safety Week 2022.
To register simply email electrickids@primary-pr.com or call 02 9212 3888.
Electricity Safety Week resources
2022 Electricity Safety Week resources can be downloaded here:
Electricity & safety unit for Years 5 & 6
Electrical safety inside
Endeavour Energy has developed an Electricity & Safety Unit for Years 5 & 6 that is aligned with the NSW Science & Technology Stage 3 syllabus.
Developed in collaboration with the NSW Department of Education, the resources include a downloadable lesson book and four complementary interactive whiteboard lessons with embedded videos, virtual experiments and interactive diagrams to engage your students in learning about electricity and how to be safe around it.
Interactive safety expert videos
Join our safety trainer Warwick for two 15-minute interactive sessions on electrical safety. Students will need pen and paper to participate in activities throughout the sessions.
Electricity safety outside
Fun activities
We have developed at-home learning resources to help students, teachers and parents participate in Electricity Safety Week anywhere, anytime. These resources are available throughout the year – check them out below:
All new Electric Kids competitions!
WIN one of TWO $500 donations to your school P&C Association and one of two $100 gift vouchers for the winning students!
This year Endeavour Energy has TWO all-new competitions for NSW primary schools:
Students can win one of two $500 cash prizes for their school P&C Association AND one of two $100 gift vouchers. Entries will be judged on creativity and effectiveness of conveying the electrical safety messages.
How to enter
Simply download and print the Poster Design template here (K-Yr3) OR Comic Strip template here (Yrs 4-6) and encourage your classroom to get creative

Ask your K-Year 3 students to create a poster design that illustrates at least one key electricity safety messages.

Or

Ask your Year 4- Year 6 students to create a SUPERHERO and show their superhero helping people stay safe around electricity, by highlighting one or more important electricity safety messages.
Remind your students to fill out their name, school and year at the bottom of their own poster/comic strip template; and encourage them to create textures and colour by using different materials

Read the full terms and conditions for the Poster Design Competition (K-Yr3) OR Comic Strip Competition . Each competition must be entered by the appropriate age group
Teachers download class entry form here to submit on behalf of your student(s)

Download and complete the class entry form then either scan and email your entry form along with your class completed posters and/or comic strips to competition@endeavourenergy.com.au
OR post to:
Endeavour Energy – c/o Tracey Young
Endeavour's Electric Kids Poster Competition
PO Box 811
SEVEN HILLS NSW 1730
Entries open Tuesday, 7 June and close Friday, 23 September 2022. Original posters and entry forms cannot be returned.
Things to know
Entries should be submitted by school staff on behalf of the student(s)
There can be multiple entries per school, but each entry must be unique
No copyrighted materials can be included, each entry must be an original creation
Each entry must highlight at least one safety message
Each Poster Design entry must be created by students from Kindy-Year 3 and each Comic Strip entry must be created by students from Years 4-6
Read the Poster Design full terms and conditions and Comic Strip full terms and conditions before submitting entries. Your school must be registered to participate in Electricity Safety Week 2022
Congratulations to our winner for 2021, Bossley Park Public School. See their winning video below.