Community batteries
What is a community battery?
It's forecast that half of all Endeavour Energy customers will have rooftop solar panels by 2030, up from nearly one in four today. This means, a lot of more solar energy will be generated and must be stored to be used efficiently. Community batteries soak up unused solar power and manage power flows, improving reliability and quality of supply, particularly during times of high demand.
Community batteries provide a shared battery solution allowing residents in a local neighbourhood to share power generated by solar panels on residential homes. This means customers can use more of the power they generate, helping customers save on household energy costs. The trial is open to all residents who live in the trial areas – both those with solar panels and those without, however spaces are limited.
How does a community battery work?
The high uptake of rooftop solar has seen households generate large amounts of energy during the day but it's also created a new challenge. The excess solar has created congestion on the electricity distribution network – a bit like when there's too many cars causing a traffic jam, making it slow to get to your destination. It's the same when there's too much solar in the electricity grid. It can create a backlog on the electricity grid and 'flood' substations, potentially causing damage to household appliances. A community battery puts this excess energy to good use. It works a bit like an energy bank where it can store excess solar generated by rooftop panels and then share it back with the community.
What are the benefits of a community battery?
Community batteries are just one of the new and evolving technologies that provide customers with more choice on how they generate, use and store energy. There are multiple benefits including lower energy costs, more reliable power supply during peak times, improved access to residential green power solutions, while supporting a higher uptake of renewable energy. They allow customers access to a battery solution without the expense of installing a household battery.
Why is Endeavour Energy installing community batteries?
Endeavour Energy supports the NSW Government's target of achieving a net zero economy by 2050. We are building a modern grid that is harnessing renewable energy sources such as microgrids, solar panels and community batteries, giving our customers more choice in how they generate, consume, and share energy.
Right now, about one in five Endeavour Energy customers have rooftop solar panels. This means that on sunny days there is a high volume of solar energy being fed back to the grid, which can cause voltage issues and damage home appliances. Excess solar energy that's not stored can be 'curtailed', with large amounts of solar energy being wasted. Community batteries provide a way for our customers to store and access this renewable energy.
A community battery provides customers with more choices about how they use energy. It enables a household to increase their use of renewable energy even if they don't have solar on their house, and enables a solar-equipped household to store solar energy for later use even if they don't buy a battery.
Community battery trial
Where are the locations for the batteries and how did you choose these areas?
Batteries can provide support to Endeavour Energy's network area by reducing overloading on the network, helping to manage voltages, improving network resiliency, and increasing the capacity for solar exports from customers. The Bungarribee trial location is the first to launch within the Endeavour Energy region, however more are being planned.
Locations selected for batteries are areas where the network is currently experiencing, or is expected to experience, problems that could be addressed by batteries. The locations have also been selected based on their high percentage of residents with rooftop solar panels, to improve opportunities for customers to participate in the community battery program.
Is this a trial? If so, how long will the trial be?
Yes. The trial is being undertaken in partnership with Origin Energy in order to gain insights into the participation rate for community batteries. Endeavour Energy intends to use to the insights from the trial to install additional community batteries across the region, to provide more of our customers with access to renewable energy.
The customer program will be trialled for one year. During the trial customers will have the opportunity to opt out at any stage.
Where is the location of the Bungarribee community battery?
In consultation with Blacktown City Council, Endeavour Energy has installed the community battery in Steeltrap Drive, Bungarribee. The batter location is opposite the intersection of Charles Smith Avenue and is on land owned by Blacktown City Council.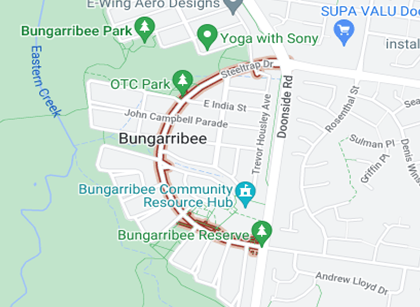 Program registration
What is required to participate in the community batteries trial?
Participation is voluntary. You need to be the owner or lessee at the supply address and the premises at that address needs to be connected to the electricity grid. We will need you to supply your most recent electricity bill in order to assess whether participation is right for you and to calculate any potential rebate you may recieve from participating in the trial.
I don't have solar. Can I still participate?
Absolutely. Even if you don't have solar panels, you will be able to access locally generated sustainable energy through the community battery. When network conditions permit, we will charge your portion of the battery. When you need it, you can use this to power your home.
I rent the property, can I still participate and benefit from the community battery?
Yes. The trial offer is open to all customers, regardless of whether you own or rent the premises at the supply address. If you connect and source power from the electricity grid, you will be able to benefit from using the local neighbourhood community battery storage service.
Participating in the program
What amount of storage can I access?
In the interest of fairness and providing as many customers with access to cheaper household energy as possible, we have set an initial battery capacity limit at 4 kWh per household per day. Our current research tells us most households will at least use this amount of energy most evenings, therefore making it the most efficient capacity for the most amount of customers - distributing the benefits as widely as possible through our communities.
What does it cost and what are the financial benefits for me?
Customers will be charged a monthly participation fee of $15, which will entitle them to reserve capacity of up to 4 kWh each day. Customers can then draw up to this same amount of energy back from the battery per day.
The participation fee will be set at a rate that is less than the amount that customers would usually pay for electricity from the grid.
As customers supply and source their energy from a community battery, they will receive a rebate. The rebate will reflect the savings they have generated by sourcing some of their daily energy needs from the battery rather than the grid.
We estimate that participating customers who both store and draw energy in and from the community battery could receive a potential rebate of up to $200 per annum, even after their payment of the participation fee is accounted for.
The exact amount of rebate you could receive will depend on:
whether you have a home solar system or not
the size of your solar system
your usage patterns
the time of the year (as electricity use varies over summer, autumn, winter and spring)
for homes with rooftop solar, the amount of excess solar energy you export to the network.
What happens if I move before the end of the trial?
No problem. Simply contact us and you can withdraw from the trial at any time, with no financial penalties payable for doing so.
How will I receive my rebate for participating in the community batteries trail?
Origin Energy will calculate your rebate and deposit the amount directly into your nominated bank account. This will be done on a monthly or quarterly basis depending on your meter type.
What happens to the rebate I already earn from my excess solar energy?
Yes you will continue to get this rebate from your electricity retailer. Your participation in this trial is completely separate and has no impact on your existing electricity arrangement with your retailer.
The trial is expected to demonstrate that you can get more value out of your existing excess solar production by storing that energy and using it at times when prices are higher in the national electricity market – such as at night when the sun isn't shining.
Retail partner
How is Endeavour Energy working with Origin Energy on this initiative?
Endeavour Energy will buy and install the community batteries, providing the necessary infrastructure. Origin Energy will support with the offering to customers and be the retail partner in this initiative.
Do I need to be a customer of Origin Energy to participate?
No. You do not need to be an Origin Energy electricity customer to participate in the community batteries trial. Your participation in the trial relates to energy storage services and is separate to any electricity agreement you have with your current electricity retailer.
Do I need to notify my energy retailer that I am joining the community batteries trail?
No - your retail arrangements will remain unchanged. Your participation in the trial relates to energy storage services and is separate to any electricity agreement you have with your current electricity retailer.