Endeavour Energy is responsible for building, maintaining and operating an electricity network that connects 2.7 million people to traditional and renewable energy sources in homes and businesses across Sydney's Greater West, the Blue Mountains, Southern Highlands, the Illawarra and the South Coast.
We are the most efficient distribution business in NSW, enabling us to deliver a safe, reliable and affordable electricity supply to our customers and communities.
Our work makes a substantial contribution to the economic development, growth and prosperity of the regions we serve.
We power Australia's third largest economy, Sydney's Greater West. This area includes Sydney's second international airport, its surrounding Aerotropolis, and the NSW Government's priority land release areas in North West and South West Sydney. These rapidly growing areas will be home to communities similar in size to Canberra by 2030.
Over this time, the population of Greater Western Sydney is expected to swell by 900,000 people and we are planning to connect 20,000 new customers each year.
Endeavour Energy builds and operates an electrical network that transports electricity from the high voltage transmission network to customers' homes and businesses.
What we do
Electricity is traditionally generated by power stations located a long way from homes and businesses. It is transported at high voltages to bulk supply points over the transmission system.
From here, Endeavour Energy transports electricity to its 22 sub-transmission and 155 zone substations. Zone substations, which usually service entire suburbs, transform electricity to mid voltage levels (11,000 volts).
Distribution substations further transform the electricity to 415 or 240 volts. Powerlines then carry this low voltage electricity to consumers for their home, office and factory use.
Electricity is also generated from renewable energy sources including wind and solar and can be stored by batteries. Customers are increasingly generating, storing and selling electricity back into the grid.
Endeavour Energy is at the forefront of the industry in integrating traditional and renewable energy sources.
Our network
We are leveraging technology and data to plan the grid of the future where batteries, microgrids and solar integrate seamlessly with the traditional distribution network to power communities for a brighter future.
With an estimated value of $6.7 billion, the network supplies 1,034,215 customers spanning over 25,000 square kilometres. Our vast traditional network is made up of more than 430,000 power poles and streetlight columns, 202 major substations and 32,600 distribution substations connected by nearly 60,600 kilometres (more than the distance from Sydney to London and back) of underground and overhead cables. It integrates with renewable energy sources including 200,000 residential solar connections, industrial solar and embedded large scale batteries.
Where we operate
Our crews operate from field service centres located to give them rapid access to their main customer populations.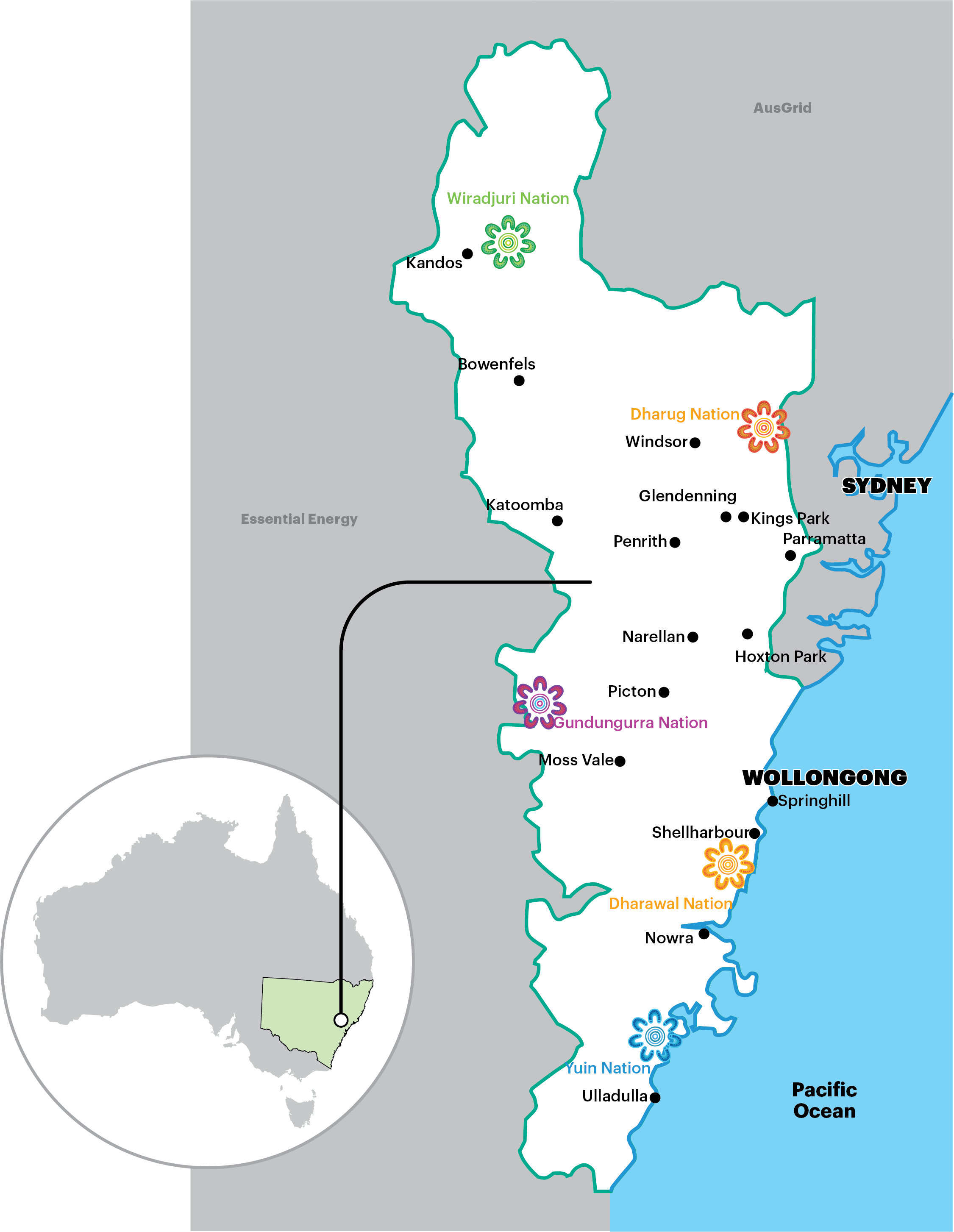 What we believe in and how we work
Our mission is to be amongst the best performing networks in Australia.
Our business purpose is to power communities for a brighter future.
Our values form the basis of everything we do. They include:
Our customers, quite rightly, expect the highest standards from us. Our Code of Conduct is a framework for the kind of personal behaviour that is fundamental to our business success.