Improving network resilience - CCT projects
We're committed to providing safe, reliable power to our community. That's why we are replacing bare overhead powerlines with covered conductor to improve network resilience during storms and to reduce the risk of bushfire in your area.
In this program, we are replacing bare high voltage conductors with covered conductors in the areas of greatest risk.
While the immediate disruption to your power supply is regrettable, we are making these necessary changes now to deliver long-term benefits before the upcoming bushfire and storm seasons.
Covered conductors will reduce the number of unplanned outages and the likelihood of powerlines starting bushfires by 98-99% in the areas of highest bushfire risk in the network
Thank you for your patience and support while we complete these important works to improve the safety and reliability of your electricity supply.
Why
Much of Endeavour Energy's network was built in the 1950s and 60s when bare electricity conductors were the only cost effective way to get power to homes and businesses.
Now there is new cost-effective technology to improve the safety and resilience of power supply in those areas most prone to disruption from external factors like vegetation, storms and bushfires.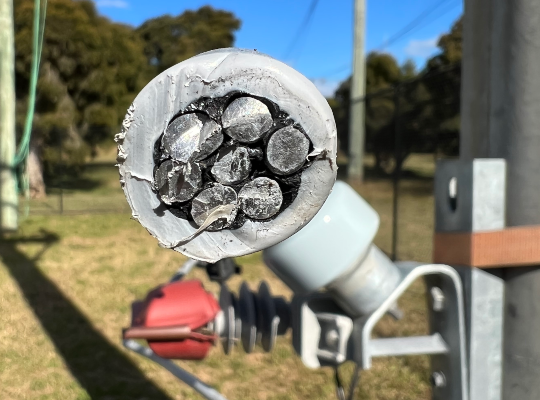 Covered conductor is designed to reduce unplanned outages and the likelihood of powerlines starting bushfires.
What is involved
In a targeted program addressing the highest risk areas, covered conductor is being installed in rural and semi areas.
In these areas, there is little – if any – capacity to back feed supply from other parts of the network to mitigate the impact on directly impacted customers.
To achieve the greatest benefit for the largest number of customers, some areas require 8-9 kilometres of conductor to be replaced, including the installation of new poles to carry the new, heavier covered conductors.
To implement this change using our current workforce, we have the capacity to refurbish 1-2 kilometres of conductor per day.
These planned upgrades are being delivered to minimise any upward pressures on power bills and deliver long term safety and resilience benefits to your community for many years to come.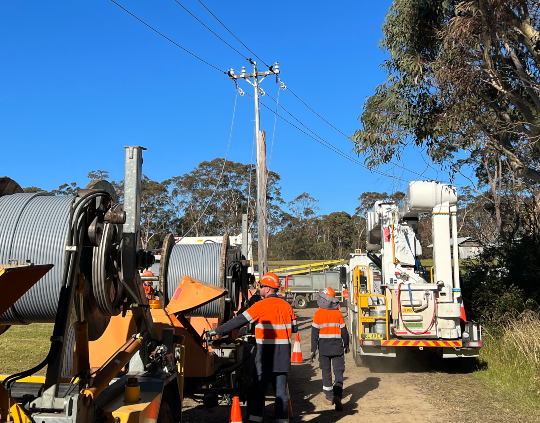 Crews replacing bare mains with covered conductor.