Calderwood Mobile Substation Development
Endeavour Energy is building a Zone Substation (ZS) within the Calderwood Urban Development Precinct. The substation will be named "Calderwood ZS".
The ZS will be developed over 2 stages. The first stage will be a mobile trailer-mounted transformer facility. When electricity load demand dictates, a permanent built transformer and switch room facility will be built.
The Calderwood ZS is planned to provide a dedicated electricity supply to the Calderwood Urban development area, parts of Albion Park and future development in Marshall Mount and Yallah. The substation will be operated and maintained by Endeavour Energy.
Overview
The key features of the project involve:
Installing a trailer mounted 22MVA 33kV/11kVtransformer unit.
Installing trailer mounted control room to house a 11kV switchboard, protection and control equipment.
Security fencing to protect the electrical equipment and ancillary works.
Benching/levelling of the substation site.
Overhead and underground electricity connections to the exiting electricity network.
The need
Calderwood ZS will provide safe and reliable electricity to the Calderwood Urban Development land release project which will provide up to 7,700 new dwellings, 50ha of commercial/mixed land use and other infrastructure development over the next 20+ years. The area to be serviced by the ZS covers developments in the local government areas of Shellharbour City Council and Wollongong City Council.
The location
The proposed Calderwood ZS site is located at the eastern edge of the Calderwood Urban release precinct on Calderwood Road as shown below.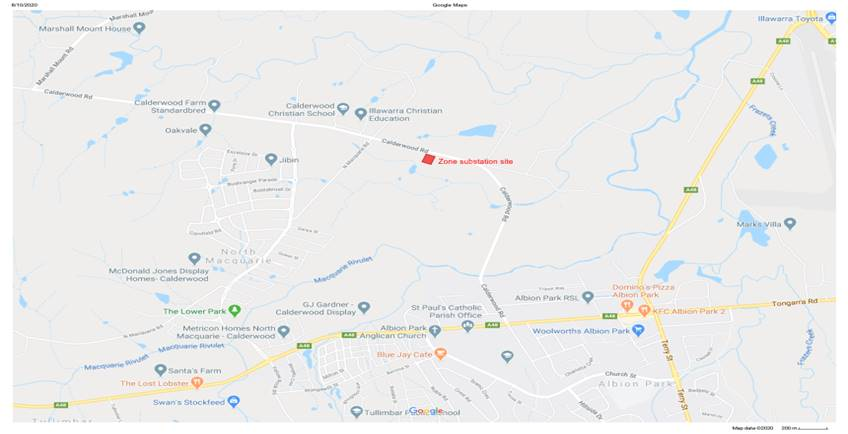 Review of environmental factors
Endeavour Energy, as the Authorised Network Operator and proponent for this development, will undertake a detailed and a robust assessment of project criteria which will ultimately achieve the best balance of environmental, technical, financial and community considerations.
In the planning stage, the proposed development is subject to a Review of Environmental Factors (REF) under Part 5 of the Environmental Planning and Assessment Act, 1979. (EP&A Act).
The REF includes comprehensive assessments on visual amenity, flora, fauna, heritage and archaeology, traffic and bushfire risk associated with the proposed development. Endeavour Energy will seek community/stakeholder feedback to the draft REF. For full document click here.
Under the EP&A Act, Endeavour Energy is the determining authority for the development.
Following the consultation process, Endeavour will consider any submissions and determine if the project is to proceed as planned and on what development conditions. If approved a Notice of Determination, contained the development consent conditions and authorising the construction works, will be issued by Endeavour Energy for the development.