Overview
Every five years, we work with customers and stakeholders to prepare investment plans to build, operate and maintain a vast electricity network. The Australian Energy Regulator (AER) reviews the plan, considers feedback and then decides the final revenue we can recover from customers to fund our operations.
AER final revenue decision for 2019-24
The Australian Energy Regulator's final revenue decision for 2019-24 issued on April 30, 2019 is a great outcome for Endeavour Energy's one million customers who continue to benefit from a decade of declining network charges.
Our revised five-year plans will see distribution network prices reduce by an average 3.7% per annum to help ease cost of living pressures and deliver safe and affordable electricity. The decision will have the following impact on network charges, which make up about one third of average annual electricity bills: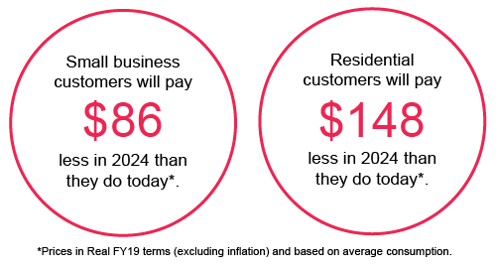 The AER's decision delivers a balanced outcome for the 2.4 million people who live and work in our network area as electricity will stay safe and affordable whilst we continue to prepare the grid for the future. This will enable us to: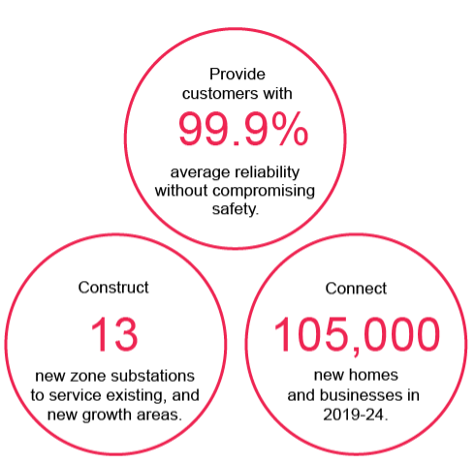 This excellent outcome has been possible due to the collaborative and respectful engagement between the AER, consumer advocates and many other stakeholders and customers. We thank all those involved, as the feedback has helped Endeavour Energy deliver a revenue proposal that is acceptable to all parties.
New tariffs
Our customers have requested greater choice and control over their electricity use and their bill. In approving our 2019-24 plans the AER approved a range of new demand and time of use tariffs which will enable this to occur.
Read more about getting the best tariff to suit your lifestyle here.
Proposal in detail
You can learn more about out plans via the links below.
Read our revised proposal submitted to the AER on 8 January, 2019
Read our proposal in full submitted to the AER on 30 April, 2018.
Read our overview which summarises our proposal.
Outcomes of engagement
Click the 'Quick Links' to find out how we engaged our customers and stakeholders and how their views shaped our proposal.
Have your say
We welcome your views on our plans. Your can provide input via:
E-mail: yoursay@endeavourenergy.com.au
In writing to:
Manager Network Regulation
Endeavour Energy
PO Box 811
Seven Hills 1730 NSW
Phone: 131 081 or (02) 9853 6666 (8.00am – 5.30pm Monday to Friday)